I want to sell my car for cash today !!
---
Cash for Cars purchases all makes and models, previously repaired, rebuilt, salvage, newer vehicles, imports and domestics, are included in the list of vehicles that we purchase.
Cash for Cars is the industry leader for buying less-than-perfect vehicles. We have been operating to meet the satisfaction of our customers when it comes to selling us your car. Our company believes in good, prompt and professional service.
Cash for Cars offers a reasonable market value for your wrecked or damaged vehicle. We are also buying vehicles that are not damaged or wrecked, that includes cars, trucks, vans, SUVs and motorcycles in Kansas City and the surrounding areas. Even though the damage is brought by a collision, mechanical failure, flood, storm damage, fire, or other types of accidents, we will purchase your car for a reasonable price.

What sets us apart from our competitors is that we have the knowledge of working with various situations and types of cars. We are employing a formula driven approach when buying your vehicle. We are reviewing the information and providing you with the best possible offer. Thus, we make the process of buying your car fast!
Cash for Cars is ready to work with you and your insurance company. We will cooperate with them for the best possible solution. We will be ready to help you with lien release or bank loan.
We Offer Transportation and Towing Services
Cash for Cars purchases and picks up wrecked vehicles in Kansas City and the surrounding areas. We also pay cash when picking up the vehicle. You do not need to pay for towing fees or any hidden charges. This is a part of our operation!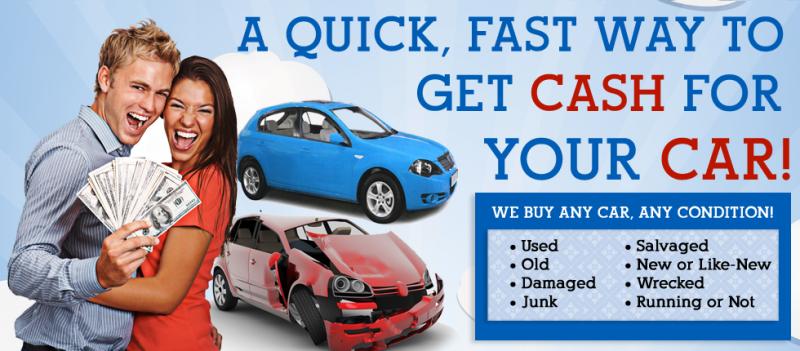 Why Choose Us?
Cash for Cars will pay you cash for your car the same day.If you are the vehicle owner and would like to sell your car quickly and easily. If your vehicle is broken, damaged or wrecked, Cash for Cars is a locally operated and owned company. Contact us and we will handle your vehicle problems immediately. Allow us to handle the stress in selling your vehicle.
We purchase trucks, vans, cars, motorcycles and suvs all makes and models running or not. | Local Pick-up Anytime and Anywhere
Items needed to complete the sale
---
1. Your car's title or pay-off information and lien release
We will need your title to transfer the car's ownership, and it must be provided at the time of sale. All titleholders should be present. If any person listed on the title
cannot make it, or if you don't have your title, please contact us for the proper forms and details
2. Valid registration We must see the car's current registration to confirm that you're the owner.
3. Valid Photo ID All titleholders should bring valid, state-issued photo identification.
4. Keys and remote When selling us your car, it's important you provide us all sets of keys and remotes. If the original keys and remote to the car are missing, we may adjust the offer along with other Determining factors that can effect the impact of the Offer.
5. Receiving payment To complete the sale, we will pay cash to the names listed on the title.